Hotels in Morocco Riad in Marrakech Hotel in Casablanca Riad in Essaouira Hivernage Hotel & Spa Royal Mirage Hotels Maroc hotels Hotels au Maroc


+212 614 614 614

+1 201 708 7017
---
| | |
| --- | --- |
| Palmeraie Village - Private Villas | |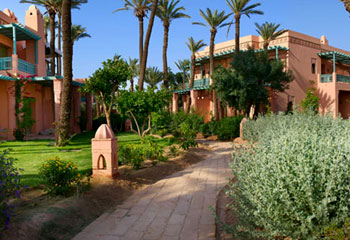 Description :
Set in a pleasant preserved and unspoilt part of the most prestigious areas of Marrakesh Palmeraie, the fully furnished apartments of the Palmeraie Village are a peace of heaven in the heart of the famous palm groves.
Whether you are alone or with your family, the Palmeraie Village provides you with all style and comfort you need for a perfect holidays.
You can contact us directly at our office number: +212 614 614 614 with your name and details.
Online Reservation Form:
Reservations Policy
All reservations will be guaranteed for late arrivals.

You may contact us or the hotel directly for any additional or special requests.

Credit card details may be faxed directly to our office at the following number: +212 524 29 24 66
Airport Transfers
If you require Airport Transfers, please provide us with your Flight details to schedule our transportation the day of your arrival.
Maroc Hotels has selected the best available hotels in each city, Marrakech, Fez, Casablanca, Essaouira and other cities, the selection is based on their service quality, and international hotel standards. We have also negotiated the best rates available on the net.

Hotels in Morocco Riad in Marrakech Hotel in Casablanca Riad in Essaouira Hivernage Hotel & Spa Royal Mirage Hotels Maroc hotels Hotels au Maroc